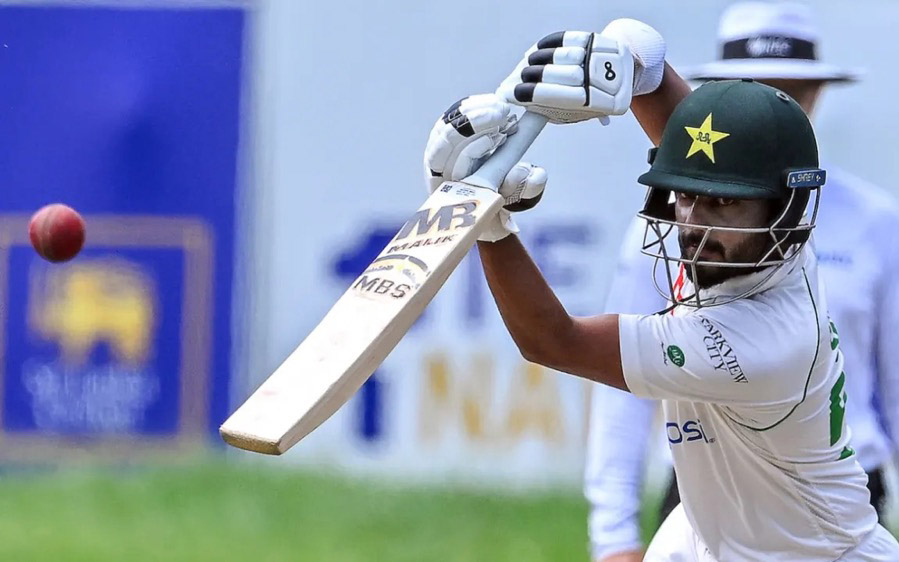 In a slow but steady display of resilience, Pakistan's Saud Shakeel showcased his batting prowess by notching up his second Test century against Sri Lanka in Galle. Despite Sri Lanka managing to take two wickets, they were unable to prevent Pakistan's ninth-wicket partnership from adding valuable runs. At the tea interval, Pakistan had extended their lead to 77, with Shakeel unbeaten on a career-best 161.
The post-lunch session saw Sri Lanka making some headway as they dismissed Noman Ali and Shaheen Shah Afridi. Noman, who had played some delightful cuts, fell victim to a delivery from Ramesh Mendis that skidded on with the arm, catching him on the crease. His partnership with Shakeel yielded 52 runs. Afridi's stay at the crease was short-lived, as Vishwa Fernando delivered a full and straight ball that struck his back pad. Afridi's optimistic review only elicited a wry chuckle from the umpire.
However, Naseem Shah proved to be a thorn in Sri Lanka's side, frustrating their attempts to dismiss him and allowing Shakeel to keep the scoreboard ticking. At tea, Naseem remained unbeaten on one off 39 deliveries, contributing to a crucial 43-run partnership for the ninth wicket.
Sri Lanka adopted a defensive strategy, spreading the field and granting Shakeel easy singles, often declining them to expose Naseem to more deliveries. This tactical move resulted in periods of dot balls interspersed with singles and occasional boundaries.
The more conservative run rate in the post-tea session was in stark contrast to the explosive start provided by Shakeel and Salman Agha in the first hour. The duo accumulated 57 runs within the initial 60 minutes before Agha was stumped off Mendis. Their partnership of 177 runs was achieved at an impressive rate of 4.96 runs per over.
Despite the scoring rate slowing down, Shakeel appeared unperturbed, except for the chance he offered Sri Lanka when Angelo Mathews dropped him on 139. Shakeel continued to display his adept footwork, confidently maneuvering down the track to counter both spin and seam deliveries. His solid defense has proven to be impenetrable for the Sri Lankan bowlers, who have struggled to create significant breakthroughs.
As the match progresses, Shakeel's unbeaten has placed Pakistan in a commanding position, extending their lead over Sri Lanka. With his resolute batting display, Shakeel has not only bolstered Pakistan's chances but has also demonstrated his potential as a formidable force in the Test arena.
In the upcoming sessions, Sri Lanka will need to regroup and devise a plan to dislodge Shakeel, who has proven to be the backbone of Pakistan's innings. The battle between Shakeel and the Sri Lankan bowlers promises to be an enthralling spectacle as both sides seek to gain the upper hand in this gripping Test match in Galle.