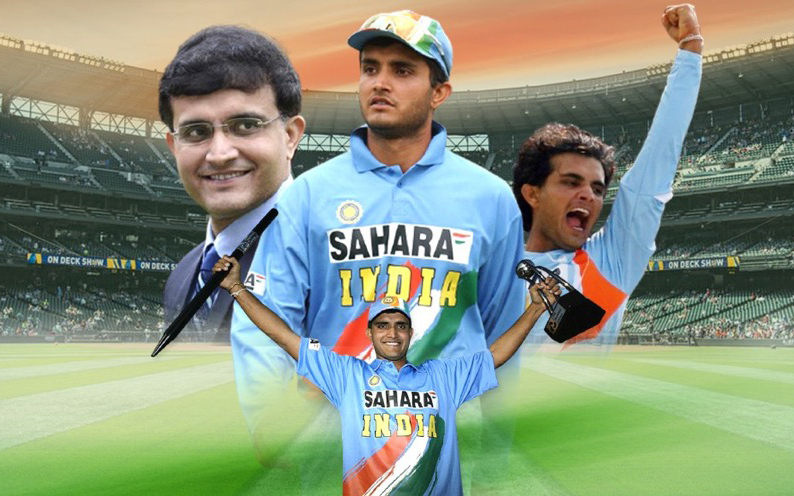 Happy 51st Birthday to Indian former captain Sourav Ganguly! Ganguly is remembered as a hero in the history of Indian cricket, as he played a crucial role in changing the image of Team India. When the Indian cricket team was embroiled in match-fixing allegations in 2000, it was Ganguly who took charge of the captaincy and gave Team India a new identity in world cricket. Under his leadership, Team India learned the art of aggression and showed the world that they could win on foreign soil as well. Ganguly's captaincy marked the beginning of giving young players an opportunity in the team, as he introduced talents like Virender Sehwag, Zaheer Khan, and Yuvraj Singh to Indian cricket. On his special day, let's take a look at some of his records and his journey in cricket.
Ganguly made his debut for the Indian team in 1996, known for his aggressive leadership style. In his very first Test at Lord's, he scored a century and made headlines. He didn't stop there, as he scored another century in his second Test, becoming one of the three players in history to achieve this feat in their first two Tests. He also made a remarkable entry into One Day Internationals (ODIs), winning four consecutive Player of the Match awards against Pakistan in 1997. Ganguly is one of the few batsmen in ODI cricket to achieve this feat. In the 1999 World Cup, he played a memorable innings of 183 runs against Sri Lanka, which is still considered the best innings played by an Indian in a World Cup.
Ganguly faced a challenging time as captain when he took charge during the match-fixing scandal in 2000. He started grooming new talents and led India to the final of the 2000 ICC Knockout Trophy. Another milestone for Team India came in 2001, when Ganguly's team defeated Australia 2-1 in the Border-Gavaskar Trophy. One of Ganguly's most memorable moments was when he took off his shirt on the balcony of Lord's after India snatched victory from England's grasp in the final of the 2002 Natwest Trophy. In the World Cup 2003, Team India reached the final under Ganguly's leadership but had to face defeat against Australia.
In 2004, Team India toured Pakistan, where they won both the ODI and Test series. They also won their first-ever Test series in Pakistan. However, Ganguly's downfall began in the 2005-06 season when conflicts with coach Greg Chappell arose. Ganguly played his last Test match against Australia in Nagpur in 2008. Throughout his career, Ganguly played 113 Tests and 311 ODIs, scoring a total of 18,575 runs. He captained India in 195 matches, winning 97 of them. After retirement, Ganguly also served as the president of the Cricket Association of Bengal (CAB) and the Board of Control for Cricket in India (BCCI).
Sourav Ganguly will always be remembered as one of the greatest captains in Indian cricket history. His contributions to the sport, both as a player and a leader, have left an indelible mark on Indian cricket.