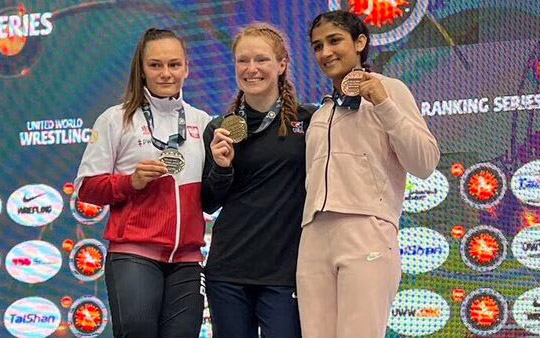 Indian wrestler Sangeeta Phogat has staged an impressive comeback by securing a bronze medal in the 59 kg category at the Budapest Ranking Series 2023 held on July 15. The two-time world championships medallist displayed her remarkable prowess on the mat, emerging victorious in the bronze play-off against Hungary's Viktoria Borsos, the U-20 World Championship silver medallist, with a score of 6-2.
Phogat faced initial setbacks in the tournament, suffering a defeat against USA's Jennifer Page Rogers in the first round. However, she quickly turned the tide in her favor with a resounding victory over another American wrestler, Brenda Olivia Reyna, in round three. Phogat clinched the win via technical superiority, showcasing her exceptional skills.
In the semi-finals, Phogat encountered a tough challenge from Poland's Magdalena Urszula Glodek. Despite demonstrating her attacking prowess with double-leg moves, she was unable to convert them into points. Glodek's counter-attacks proved to be decisive, leading to a 6-4 victory and denying Phogat a spot in the finals.
This bronze medal win marks a triumphant return for Sangeeta Phogat, who had previously been among the wrestlers protesting against alleged sexual harassment by the Wrestling Federation of India (WFI) chief, Brij Bhushan Sharan Singh. Phogat's outstanding performance on the international stage not only highlights her determination and resilience but also serves as a powerful statement of her support for those fighting against crimes against women.
Expressing her gratitude for the congratulatory messages she received, Phogat took to Twitter to share her response. In her tweet, she dedicated the medal not only to herself but also to all the fighting women around the world who are standing up against crimes against women. Phogat's words carry a strong message of solidarity and empowerment.
It is worth noting that several other Indian wrestlers were scheduled to compete at the Budapest meet but withdrew from the tournament earlier. Sarita Mor in the women's 59 kg category, Sujeet in the men's 65 kg category, and Greco-Roman wrestler Sunil Kumar in the 87 kg category were among those who opted out of the event.
The Budapest Ranking Series, also known as the Polyak Imre & Varga Janos Memorial wrestling tournament, serves as the final ranking series event of the year. Throughout the season, Indian wrestlers have consistently showcased their mettle, securing bronze medals in both the Zagreb and Ibrahim Moustafa ranking series tournaments. Additionally, at the Bishkek ranking series, India's wrestling contingent brought home one gold, one silver, and two bronze medals.
Sangeeta Phogat's bronze medal win at the Budapest Ranking Series 2023 not only adds another accolade to her already impressive career but also serves as a testament to her unwavering determination and resilience. As she continues to excel on the international stage, Phogat remains an inspiration for aspiring wrestlers and a symbol of strength for women everywhere.