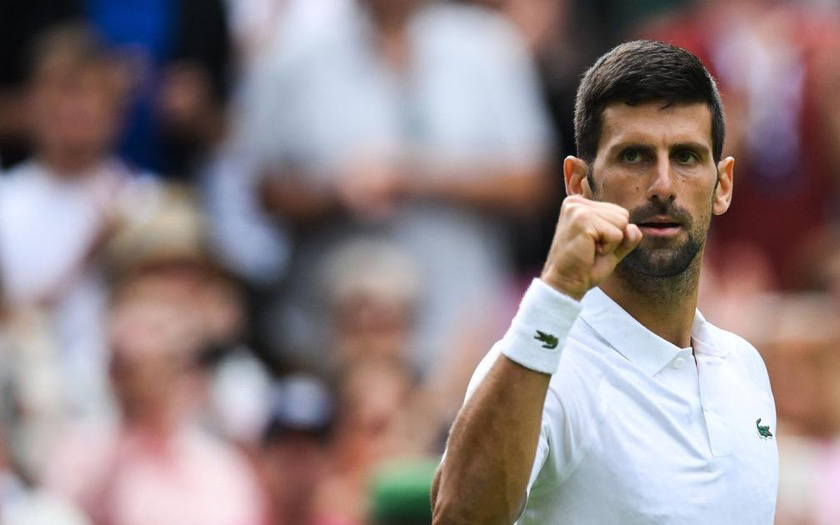 In a thrilling start to the 2023 Wimbledon tournament, Novak Djokovic, the 36-year-old Serbian tennis superstar, launched his bid for an eighth Wimbledon title with a commanding victory on Monday. Djokovic, who has won the past four titles at the All England Club, defeated Pedro Cachin of Argentina in straight sets, 6-3, 6-3, 7-6 (4), on Centre Court. This win marked Djokovic's 40th successive win on the prestigious court, where he has not lost since 2013.
The match was not without its challenges, as a downpour caused the surface to become slippery, leading to a delay in play. Djokovic even took it upon himself to help the ground staff dry out the court, describing it as "the holy grail, the temple of tennis." Despite the less than ideal conditions, Djokovic displayed his exceptional skill and determination, showcasing why he is considered one of the greatest tennis players of all time.
With this victory, Djokovic advances to the second round, where he will face Australia's Jordan Thompson. The Serbian is aiming to match Roger Federer's men's record of eight Wimbledon titles and is already halfway to achieving the first calendar Grand Slam since Rod Laver in 1969. Having already pocketed the Australian Open and French Open titles this year, Djokovic is in a formidable position to make history.
While Djokovic's performance was undoubtedly impressive, the first day of Wimbledon also saw some surprising upsets. American stars Coco Gauff and Venus Williams were both knocked out of the tournament. Gauff, the 17-year-old rising star, suffered a defeat at the hands of her compatriot Sofia Kenin, who came through qualifying. Kenin, now ranked 128th in the world, showcased her resilience and determination in a hard-fought match, winning 6-4, 4-6, 6-2.
Gauff admitted that she has a lot to work on following her loss, highlighting the areas she needs to improve in her game. Meanwhile, Venus Williams, the five-time champion, also faced disappointment as she was defeated by Elina Svitolina of Ukraine. Williams, who made her Wimbledon debut in 1997, took a nasty tumble early in the match, injuring her right knee. Despite her best efforts, Williams was unable to recover and succumbed to a 6-4, 6-3 defeat.
In other matches, notable winners on the first day of the tournament included Andrey Rublev of Russia, Daria Kasatkina of Russia, Veronika Kudermetova of Russia, and Victoria Azarenka of Belarus. These players showcased their skills and determination, setting the stage for what promises to be an exciting and competitive Wimbledon.
As the tournament progresses, the focus will undoubtedly be on Novak Djokovic as he continues his quest for an eighth Wimbledon title and a place in tennis history. With his exceptional form and unwavering determination, Djokovic is poised to make a strong statement in this year's championship. Tennis fans around the world eagerly await the next chapter of this thrilling tournament.