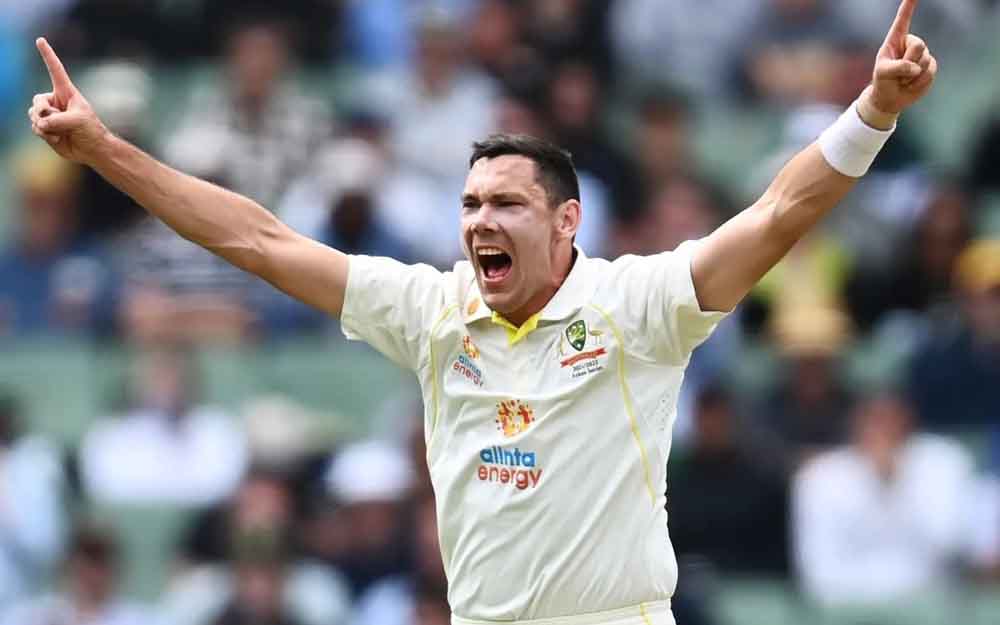 As the Australian cricket team prepares for a grueling block of six Tests in under eight weeks, Australian seamer Scott Boland is confident he'll get the chance to play a role in the UK over the coming months. Boland has sent a subtle warning to England that he still hasn't peaked in red-ball cricket.
Although Josh Hazlewood has been named in Australia's 15-man squad for the World Test Championship final against India, Boland is firmly in the frame to feature in his first Test on English soil, alongside fellow pace bowlers Pat Cummins and Mitchell Starc. Boland believes that Australia will need to rotate their fast bowlers during the tour.
"I think it would be hard for any of the fast bowlers to play all six Tests straight," Boland said. "There is a 10-day break though … that will definitely help. I'm preparing to play, at some stage. I'm not sure if I'll start or whenever that may be. Everyone keeps saying I will be suited to the conditions. I haven't played any county cricket over there or red-ball cricket, but I have played some white-ball stuff. England is a nice place to play cricket. The ball is coming out nice. I feel really refreshed and strong."
Six of Boland's seven Tests have been at home, with his only away outing coming during Australia's recent tour of India. On a Nagpur pitch that offered little assistance to the seamers, Boland went wicketless from 17 overs in Australia's innings and 132-run defeat in the opening Test. Remarkably, the Victorian still averages 13.42 with the ball in Test cricket.
As far as dream runs go, Boland's is about as good as it gets, but he's still eager to improve and genuinely feels his best cricket is to come. That could be a scary prospect for England's top order, given the damage Boland has already inflicted in Test cricket.
"I've played seven games and still think I'm going to get better," Boland said. "I'm pretty keen to test my skills in England. It's somewhere very different. I was lucky enough to play in India. Even though conditions didn't really suit me, I felt I went alright for the game I played. I still get really excited to put my name forward. I still feel like I'm learning in Test cricket and I'm 34."
Due to the condensed nature of the tour, Australia haven't scheduled any warm-up matches or tour games while they're in the UK. Boland says the lack of opportunity to prove himself to selectors doesn't bother him.
"I'm happy bowling in training or in centre wickets," Boland said. "I'm probably bowling best when I'm fresh. I'm not someone who needs to play a whole lot. I don't feel like I'm missing out on a whole lot by not playing county cricket before the series. Over the last two years we've played such good cricket and finished on top of the World Test Championship. It's a big game that could hopefully kick-start a big winter for us."
Meanwhile, there has been no shortage of intrigue around what kind of pitches will be prepared for the Ashes. England skipper Ben Stokes' request for "fast, flat" pitches has already been labelled a "smokescreen" by Starc.
"Have you ever seen a fast wicket in England? I don't know if they can," Starc said. "They can certainly make them flat. I'm not sure if they can make them fast. I think it's a bit of a smokescreen."
Like any pace bowler, Boland would prefer pitches of the greener and softer variety. However, he says that Australia's batsmen could cause some damage if Stokes gets what he wants.
"I'm sure our batters are going to be licking their lips if they rock up to England and there are flat pitches," Boland said.
Author recommend: