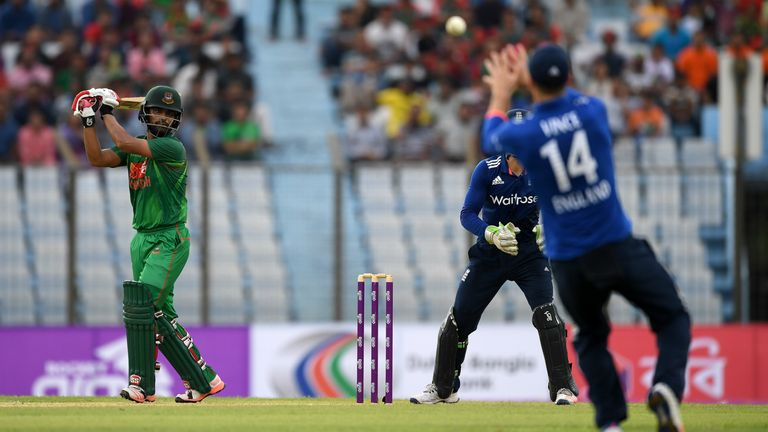 Cricket enthusiasts around the world are eagerly awaiting the ICC Cricket World Cup 2023, which promises to be a thrilling tournament filled with top-notch cricketing action. One of the highly anticipated matches in this tournament is the clash between England and Bangladesh. In this article, we will take a closer look at the batting line-ups of both teams and provide some valuable betting tips for cricket fans.
Batting Comparison:
When it comes to One Day International (ODI) cricket, a strong batting lineup is crucial for success, and both England and Bangladesh have their fair share of batting talent. Let's compare the two teams' batting units to get a better understanding of what to expect in this exciting encounter.
England:
Jos Buttler (Captain): England's Captain wicketkeeper-batsman is a destructive force in limited-overs cricket. His ability to score quickly and play innovative shots makes him a vital cog in England's batting lineup.
Joe Root: The backbone of England's batting, Root's classical style complements the aggressive approach of his teammates. He can anchor the innings and accelerate when needed.
Ben Stokes: An all-rounder par excellence, Stokes can change the game with both bat and ball. His ability to clear the ropes is a massive asset.
Jonny Bairstow: Another explosive opener, Bairstow is known for his ability to launch an attack from the very beginning. His partnership with Roy is often a nightmare for bowlers.
Moeen Ali: A handy lower-order batsman, Ali can chip in with valuable runs and finish the innings strongly. 
Chris Woakes: Woakes provides depth to England's batting, and his ability to hit boundaries down the order can be crucial.
Sam Curran: This young all-rounder is a promising talent and can be handy with both bat and ball.
Mark Wood: While primarily a bowler, Wood can contribute some crucial runs down the order.
Adil Rashid: The leg-spinner is no mug with the bat and can hang around to frustrate the opposition.
Bangladesh:
Liton Das: Another top-order batsman, Das has shown glimpses of his talent and will be eager to make an impact.
Shakib Al Hasan (Captain): One of the world's premier all-rounders, Shakib's batting prowess is well-documented. He can anchor the innings and accelerate as required.
Mushfiqur Rahim: The wicketkeeper-batsman has been a reliable run-scorer for Bangladesh over the years and can stabilize the middle order.
Mahmudullah: A cool-headed finisher, Mahmudullah's ability to handle pressure situations makes him a crucial figure in Bangladesh's batting lineup.
Mominul Haque: Haque provides solidity in the middle order and can rotate the strike effectively.
Mehidy Hasan: The off-spinning all-rounder can chip in with some crucial runs down the order.
Afif Hossain: Hossain is a promising young talent who can provide impetus to the innings in the latter stages. 
Mustafizur Rahman: The left-arm seamer can be a surprise package with the bat and can contribute valuable runs.
In terms of batting depth and firepower, England appears to have the upper hand. They possess a formidable lineup filled with power hitters who can take the game away from the opposition in a matter of overs. However, Bangladesh's batting isn't to be underestimated. They have experienced campaigners in their ranks who have the ability to guide their team to competitive totals.
Betting Tips:
Now, let's move on to some betting tips for the England vs. Bangladesh ODI World Cup 2023 clash. Please remember that betting should always be done responsibly, and it's essential to gamble only what you can afford to lose.
Team Performance: Considering England's powerful batting lineup, they are likely to score more runs in the match. You can place bets on England's team total runs, especially if they are batting first.
Top Run-Scorer: In the England camp, players like Jos Buttler, Jason Roy, and Joe Root are prime contenders for the top run-scorer. For Bangladesh, Tamim Iqbal and Shakib Al Hasan are the players to watch. Consider placing bets on these individuals to be the highest run-getters for their respective teams.
Total Match Runs: Depending on the pitch conditions and the teams' performance in the match, you can bet on the total runs scored in the game. Keep an eye on the pitch report and the weather conditions as they can impact the scoring.
Boundary Bets: With England's aggressive batting, there are likely to be plenty of boundaries in the match. You can bet on the total number of fours and sixes in the game.
Player Performance: Many sportsbooks offer bets on individual player performances, such as the number of boundaries they hit or their total runs. Analyze the recent form and track record of players to make informed bets.
Match Winner: Lastly, you can bet on the overall match winner. England might be the favorites, but Bangladesh has the ability to pull off surprises. Consider the odds and team form before placing your bet.
In conclusion, the England vs. Bangladesh ODI World Cup 2023 clash promises to be an exciting encounter with both teams possessing strong batting line-ups. While England appears to have the edge in terms of firepower, cricket is an unpredictable game, and Bangladesh has the potential to cause an upset. When betting on the match, it's essential to do thorough research, consider the conditions, and bet responsibly. Enjoy the game and the thrill of cricket betting!