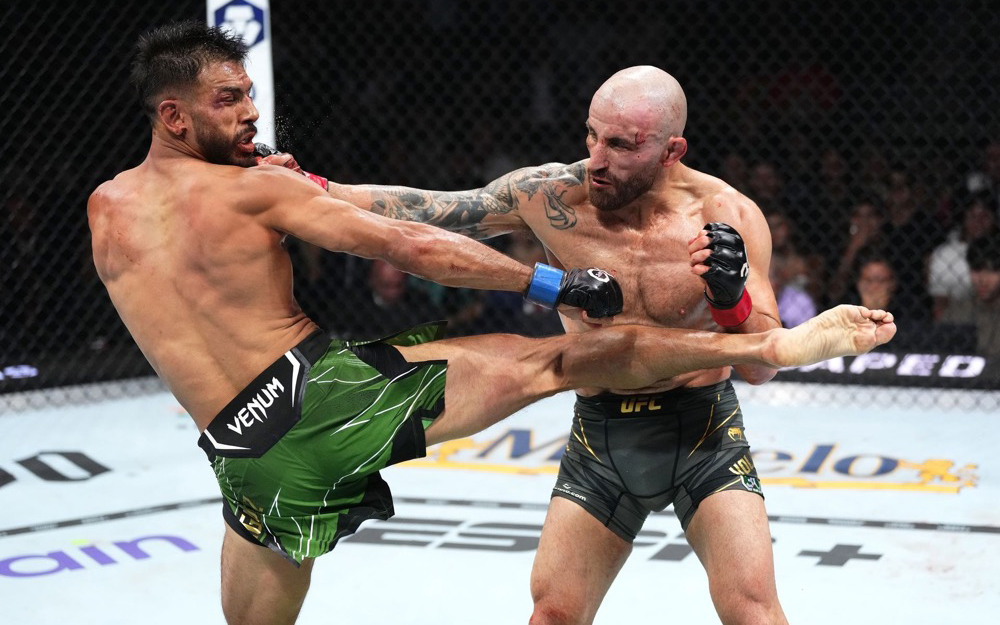 In a stunning display of skill and dominance, Alexander Volkanovski solidified his status as the world's best pound-for-pound fighter in his recent featherweight title defense. However, the Australian fighter revealed that he will require surgery on his arm, adding a touch of vulnerability to his impressive victory.
Volkanovski was expected to face a tough challenge from Yair Rodriguez at UFC 290, but he quickly put an end to any doubts by finishing off the Mexican fighter in just three rounds with a TKO win. Despite his triumph, Volkanovski remained humble and opened up about the "fear" he had of Rodriguez's striking ability. He also shared his plans to undergo surgery on his arm.
"I'll be completely honest with you, I need to get a little bit of surgery on my arm," Volkanovski admitted. "Going through camp was a bit of a struggle, but I was always going to turn up here and do my thing. I'll go and get that surgery as soon as I get home and I'll be back in. I'll make sure I stay fit while I'm in recovery, and I'll be back here soon. I want that lightweight belt, and I'm still coming for it."
Volkanovski's determination to continue his pursuit of greatness is evident, despite the setback of his upcoming surgery. He acknowledged the fear he felt during training, knowing the dangerous striking abilities of Rodriguez. However, he used that fear as motivation to prepare properly and ultimately secure the win. The Australian fighter's mindset shifted during fight week, as he embraced his role as the champion and king of the division.
Looking ahead, Volkanovski directed his attention to Ilia Topuria, accusing the Georgian native of "running his mouth." The two fighters faced off outside the octagon before Volkanovski made his exit. UFC legend Daniel Cormier weighed in on the potential matchup, expressing doubt that Topuria could challenge Volkanovski's dominance.
"This guy is the featherweight king by far, it's not even close right now," Cormier commented. "I know Ilia Topuria is a fantastic fighter and he's so good at the simple things, but I don't know if the simple things can get Alexander Volkanovski. It's going to be really difficult for someone at that weight class to really challenge this guy, he's that good."
Volkanovski's arm surgery adds an unexpected twist to his victorious night, but his determination and focus remain unwavering. As he prepares for recovery, he will undoubtedly be plotting his return to the octagon and his pursuit of the lightweight belt. Fans can expect to see the world's best pound-for-pound fighter back in action soon, ready to showcase his skills and continue his reign of dominance.