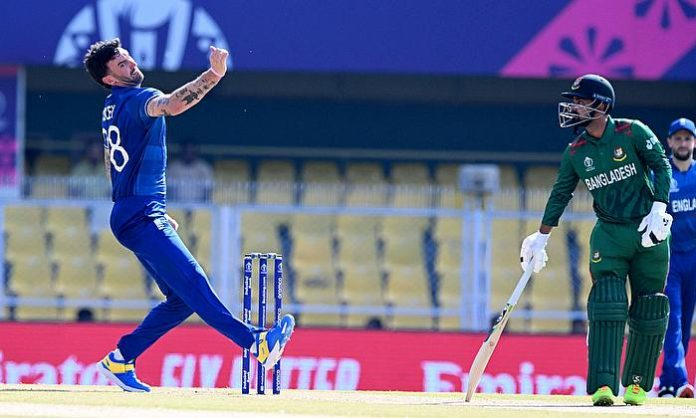 The ICC Cricket World Cup 2023 has brought together some of the finest cricketing nations to compete for the prestigious title. One of the most anticipated matches of the tournament is the clash between England and Bangladesh in the One Day International (ODI) format. While both teams boast talented line-ups, this article will focus on the crucial aspect of bowling and provide valuable betting tips for this exciting encounter.
Bowling Comparison: England
England's bowling attack has evolved significantly over the years, making them a formidable force in limited-overs cricket. Their seamers and spinners have adapted well to different conditions, and they have a balanced lineup capable of taking wickets at crucial moments. Let's take a closer look at their key bowlers.
Jofra Archer: Archer is England's pace sensation, known for his express pace and lethal bouncers. His ability to bowl consistently above 90mph makes him a real threat upfront and during the death overs.
Chris Woakes: Woakes is a swing bowler who can move the ball both ways. His control and accuracy make him a valuable asset for England, especially in conditions conducive to seam movement.
Adil Rashid: Rashid is England's premier leg-spinner. His ability to extract turn and deceive batsmen in the middle overs has been crucial in breaking partnerships and controlling the run-rate.
Moeen Ali: Moeen is an off-spinning all-rounder who provides England with an additional spinning option. He can be handy with both bat and ball.
Mark Wood: Wood's sheer pace and ability to generate reverse swing make him a vital asset for England. He often partners with Archer to form a deadly pace duo.
Bowling Comparison: Bangladesh
Bangladesh may not have the same firepower as England, but their bowling attack has improved steadily over the years. They have a mix of experienced campaigners and young talents who can make a difference in crucial matches. Here are their key bowlers.
Mustafizur Rahman: Mustafizur, often referred to as the "Fizz," is a left-arm seamer known for his deceptive slower balls. His variations can trouble even the best batsmen.
Mehidy Hasan: Mehidy is Bangladesh's leading spin bowler, specializing in off-spin. He can tie down the batsmen and chip in with crucial wickets in the middle overs.
Taskin Ahmed: Taskin is a fiery fast bowler who can consistently touch the 90mph mark. His raw pace can unsettle the opposition's top order.
Shakib Al Hasan: Shakib is one of the world's best all-rounders, providing Bangladesh with a spin-bowling option. His experience and ability to perform under pressure make him a key player.
Mohammad Saifuddin: Saifuddin is an effective medium-fast bowler who can swing the ball both ways. He is often tasked with providing crucial breakthroughs in the middle overs.
Betting Tips
Now that we've assessed the bowling line-ups of both teams, let's delve into some betting tips for the England vs. Bangladesh ODI World Cup clash.
Conditions Matter: Consider the pitch and weather conditions before placing your bets. If the pitch is expected to assist seamers, England's bowlers may have an advantage. On the other hand, spin-friendly conditions could favor Bangladesh's spinners.
Top Wicket-Taker: Bet on the top wicket-taker for each team. Players like Jofra Archer and Mustafizur Rahman are likely contenders. Keep an eye on their recent form and the conditions that suit their style of bowling.
Economy Rates: Look for bowlers who maintain a low economy rate. Bowlers like Chris Woakes and Mehidy Hasan are known for their ability to control the run rate. Betting on them to have a good economy rate can be a smart move.
Death Overs Specialists: In ODI cricket, the ability to perform well in the death overs is crucial. Consider betting on bowlers who excel in the final 10 overs. Jofra Archer and Mustafizur Rahman are prime examples of such bowlers.
Player Head-to-Head: Research head-to-head statistics of key bowlers against opposition batsmen. This can give you insights into which bowlers have historically performed well against specific opponents.
All-Rounders: Keep an eye on all-rounders who can contribute with both bat and ball. Players like Shakib Al Hasan and Moeen Ali can make a significant impact on the match and provide value in various betting markets.
Conclusion
The England vs. Bangladesh ODI World Cup clash promises to be a thrilling encounter, with both teams possessing a balanced bowling attack. While England boasts a formidable pace attack led by Jofra Archer and Chris Woakes, Bangladesh relies on the spin prowess of Mehidy Hasan and the variations of Mustafizur Rahman.
When placing your bets, consider the playing conditions, recent form of key bowlers, and historical head-to-head statistics. Betting on the top wicket-taker and bowlers who excel in the death overs can be smart strategies.
As cricket fans around the world eagerly await this exciting contest, remember to gamble responsibly and enjoy the thrill of the game. May the best team win and provide us with a memorable ODI World Cup clash!